On average 83% of people gets their best offer through FixerJoe
Feel yourself comfortable and confident at home!​
Average Range: $2,300-$10,500
Average
$6,700
Best offer
$1,400
High
$15,000
(High-efficiency boiler installation for a 1,500 sq.ft. home)

The majority of American homes use the heat provided by a central furnace. However, even if the warm-air heating system is more common, it doesn't mean it's better than other systems. Let's look at the differences between a furnace and a boiler to make a fair comparison.

The main difference is that a furnace heats the air while a boiler heats the water. Also, warm-air heating systems use ductwork to move air, and boiler systems use copper pipes. A furnace is much less energy-efficient than a boiler. Therefore, you should consider installing a boiler heating system to lower your energy bills.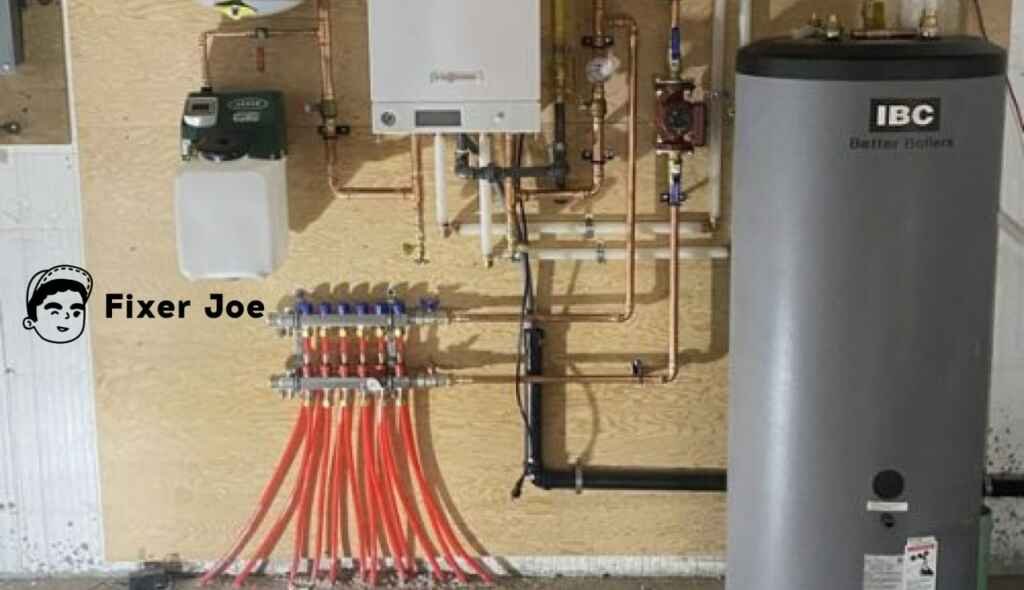 A boiler is a water heater for special purposes. Hydronic boiler heating systems carry heat in hot water. This heat dissipates as it passes through radiators. Then, the cold water returns to the boiler for reheating. Residential boilers usually use natural gas as fuel. In a steam boiler, the steam from the boiling water carries heat through the house. After that, it condenses into the water as it cools down in a radiator. Usually, oil and natural gas are used as fuel in steam boilers.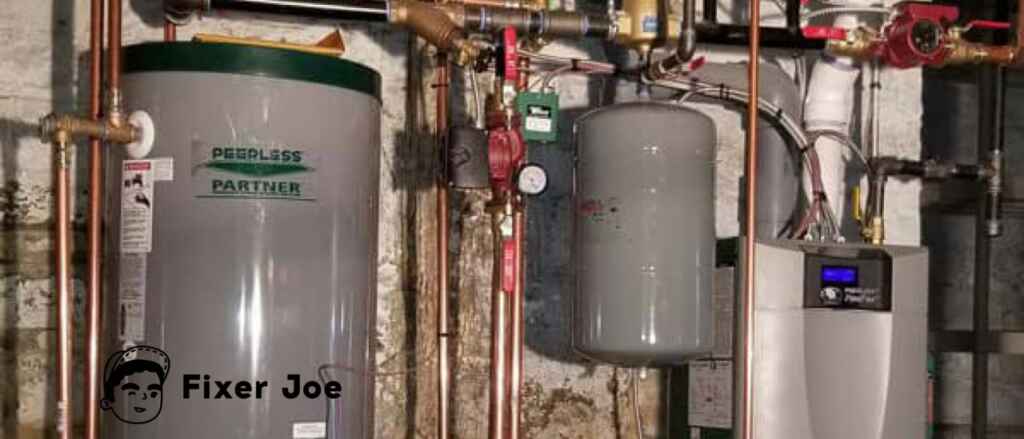 The help of an expert in boiler installation and service will make your winter and your toes much warmer. Our company ensures that boiler service providers at FixerJoe will find the best heating system for your home. Whether you are in a residential or commercial area, you need the best boiler installation and service to keep your property cozy and warm all winter.
Contact FixerJoe today to start your boiler heating system installation project as soon as possible.
Hydronic (hot-water) boiler-and-radiator system
Hydronic boilers and radiators come in various shapes, sizes, and configurations.
Hot-water central boilers heat water and pump it through a network of pipes behind walls or under floors to outlets, such as radiator panels, panel floor conditioners, or floor duct convectors. Once the water is heated, it travels through the house and returns to the boiler to be reheated.

Hydronic boilers are divided into two main types: condensing and non-condensing. In a non-condensing boiler system, hot gas, which is released while the fuel burns, goes straight to the atmosphere via a flue. Condensing boilers, in their turn, recycle the gas through heat exchangers. Then, this heat is moved to the radiators or used to make domestic water hot.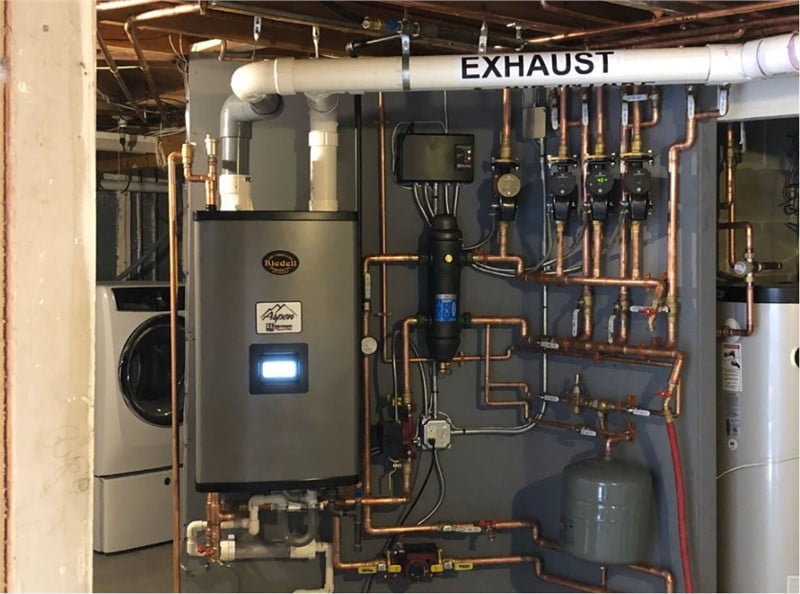 Condensing boilers are more expensive than non-condensing boilers, but they are much more energy-efficient and, therefore, can save you money in the long run.

These boilers also produce fewer carbon emissions, so purchasing one is a sustainable option.

Hot-water radiators are either freestanding, wall-mounted or look like baseboard heaters. Modern hot-water radiators can have a flat front panel cover with no visible fins.
Steam boiler-and-radiator system
Steam boilers are very efficient in multi-story residential buildings. There are two types of steam boiler systems: one-pipe and two-pipe systems.
A one-pipe steam boiler system boils water to produce steam. The steam uses metal (aluminum, stainless steel, or even cast iron) to transfer the heat to the radiators in each room. As a result, the steam keeps your home warm. When the steam cools down, it turns back into the water, and the cycle starts again.

A two-pipe steam boiler system is similar to a one-pipe system. However, the difference is that the condensate in the two pipes is drained away and doesn't cycle back like in the one-pipe steam boiler system.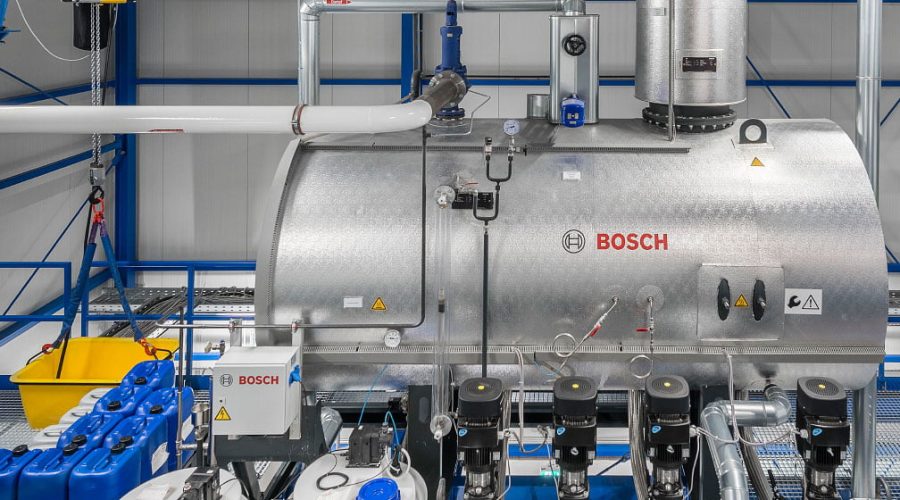 Most steam radiators are freestanding radiators with visible fins. However, there are also wall-mounted steam radiators.
No matter the type, boiler heating systems require frequent maintenance and inspection to maximize efficiency and longevity. The service should be provided once a year by licensed plumbers. A qualified contractor should make the necessary checks and adjustments to ensure your boiler works efficiently and safely. Between professional service appointments, you can do a few easy things to extend the life of your boiler heating system.
Bleed the radiators

If your boiler radiators don't heat up enough when the boiler is operating, it's best to bleed them. Use a wrench to open the radiator valve. When the water begins to flow from the radiator, close the valve and wipe up the water.

Check vents and chimneys

A clogged vent can make your boiler work less efficiently. If you find a blockage, remove it to allow airflow.

Check the water level in the boiler

If the water level is lower than the manufacturer recommends, look for a leak. Running a boiler without adequate volume of water can cause irreparable damage to it.

Check the overflow pipe for dripping water

The dripping water indicates that the pressure valve is broken, and you should get it replaced by a professional plumber.
If you are struggling to find local professional plumbers to maintain your boiler properly, contact FixerJoe. Our company is the best choice for boiler installation, repair, and replacement. Call FixerJoe today to get started.
A broken heating system is a problem that should be solved as soon as possible because it can put your comfort and health at risk. However, don't rush with the repairing part – instead, contact professionals for this task. Because the job involves working with water and electricity, it requires special skills and experience in the field, so if you are not a plumber, you shouldn't put yourself in danger. If you are looking for trained contractors to complete the repair for you, contact FixerJoe. Our company will help you with your search.
Here are some steps that plumbers at FixerJoe perform to repair a boiler heating system:
Visual inspection

The contractor of your choice will verify that the boiler meets standard requirements. This step includes ensuring that the flame in your boiler is in working condition.

Removal of the boiler casing

The plumbers will remove the casing to check your heat exchanger, burner, and injector for proper functioning.

Gas pressure check

Your contractor will check if your boiler is operating at the correct pressure.

Get the boiler fired up

A skilled handyman will operate the system to pinpoint the problem.

Repair

The contractor will then perform any necessary boiler repair or replacement steps to get you back in service.

Clean-up

The professional will clean up the area of the installation.
If you need an emergency boiler repair, contact FixerJoe. Our company will ensure that your broken boiler heating system is repaired quickly and qualitatively.
The average cost to install a boiler is around $12,000. Because all boiler installations are different, the price may vary from case to case. Some key factors affect the cost of a new boiler system installation: the type, size, energy source, and brand of boiler, the complexity of the installation process, the type of radiators, heating controls, and radiator valves, and the labor costs in your area.
Boiler system installation and repair cost depends on:
Brand of boiler
Type of heating controls
Type of system
Size of boiler
Labor cost in your area
Hot-water boilers usually cost between $1,500 and $4,500. The price for a steam boiler ranges between $4,000 and $8,500.

Expect to pay around $6,000 for an oil-burning boiler and $5,000 for an electric one. The cost of a gas-burning boiler varies from $4,000 to $12,000.

The average price for a new condensing boiler is $4,450. Non-condensing boilers are more affordable, with their cost ranging from $1,500 to $5,000.
It costs around $400 to install a radiator and about $1,000 to install the pipework. A room thermostat is $50 on average, while a smart thermostat usually costs $185. The price for a manual radiator valve ranges from $5 to $40, and the cost of a thermostatic radiator valve is $85 on average. Smart radiator valves can cost from $60 to $230. Professional plumbers usually charge $150 per hour for the boiler heating system installation. The process takes 2–5 days.
The cost of a boiler repair varies depending on its fuel and the extent of the damage. Oil-fired boilers can cost up to $500 to repair, while gas-fired boiler repairs typically cost an average of $400.

The cost to repair a radiator is $150 to $500. The price to replace a boiler part varies from $10 to $800 per part, and the labor adds another $225.

When multiple parts break at the same time or your system is inefficient, the cost to repair becomes higher. If it's your case, you should consider installing a new unit.
Contact FixerJoe for a free price estimate of your boiler heating system project.