On average 83% of people gets their best offer through FixerJoe
Feel yourself comfortable and confident at home!​
Average Range: $6,500-$25,200
Average
$13,200
Best offer
$3,000
High
$42,400
(1,000 sq.ft. of natural slate roof replacement)
It's impossible to imagine a house without a roof. The roof gives your home a sense of comfort and coziness. It protects you and your loved ones from rainfall and pests as well. Your roof keeps your home insulated and enhances its curb appeal. Therefore, it is one of the most important features of your home.
Usually, roofs are enduring. They last from 25 to more than 50 years depending on the material and its quality. A poor roof poses a lot of risk to you and your loved ones. If your roof is already 25 years old or older, don't wait until it starts leaking – consider a new roof installation. Whether replacing an old roof or building a new home, having a reliable one is essential.
A roof takes effort and skills to install. This task is not easy, so you should hire professionals to have it done properly. If you are looking for roof installation services near you, call FixerJoe. Our company is your reliable helper when it comes to finding trained roofers in your area.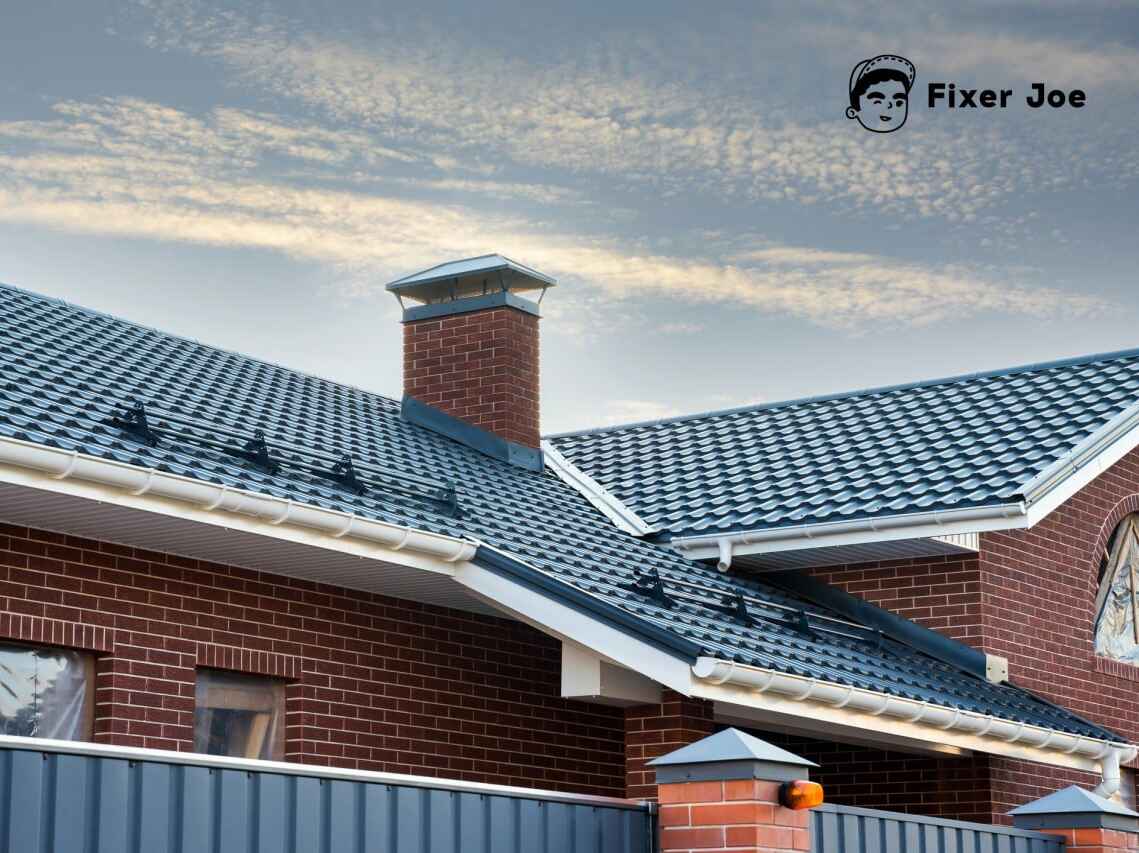 Our many conductors offer fast, affordable, and high-quality roof installation services that guarantee unrivaled durability and long-lasting use. Our roofers have extensive experience providing roof installation solutions to residential and commercial clients. They are renowned for their commitment to professionalism and best-in-class customer service.
Are you considering a hipped, gable, curved or flat roof installation? We've got you covered. Talk to our experienced tile roofing contractors now to discuss your project. We offer free consultations and provide no-obligation estimates.
Roof installation will start with an in-home consultation with you to understand your needs and preferences. A contractor that you will find via FixerJoe will also talk you through various roofing options available. After that, the team will provide a quote and discuss your financing options. Once you reach an agreement, the professionals will start the roof installation process immediately.
Are you considering a hipped, gable, curved or flat roof installation? FixerJoe has got you covered. Talk to our experienced roofing contractors now to discuss your project. They offer free consultations and provide no-obligation estimates.
The roof installation should be performed step by step, with the job taking up to 6 business days. It is essential to hire specialists for the installation because insufficient knowledge and experience may negatively affect the final result.
The installation process differs from time to time depending on the type of roof and its material. The most common type of roof is an asphalt shingle roof. Professional roofers usually perform the following steps to install it:
A skilled installer will remove the existing roof coating, if necessary.

A roofer will have a look at your sheathing and provide a revision for moist or damaged areas to replace them.

A trained team will install a barrier that will protect the roof from water and ice.

A handyman will put the product around the edges of the roof. The layer will stick to the sheathing and it will be nailed down later with roofing nails to ensure stability. This step will be performed only if your region is prone to ice or rain.

A professional will install a drip edge to prevent the curing of shingles by fastening the drip edge to the eaves and nailing it.

A trained contractor will install the roof underlayment by rolling it along the edge of the roof and securing it with cap roof nails.

The roof will be covered with felt paper by rolling the paper out in sections and securing it to the deck using staples.

The roof valleys will be waterproofed with underlayment and felt paper.

A skilled team will install roofing shingles in an overlapping pattern, starting from the bottom rows.

A team member will secure each shingle with a nail gun.

The waterproofing coating will be applied around troublesome areas such as chimneys and windows.

A verified roofer will install the top shingles using longer nails to secure them.

A professional will seal up all the nails using a specialized sealant.

The area will be cleaned up using special magnets for nails and other metal elements.
The installation performed by professionals will enable you to forget about drafts and wet spots on the ceiling. Compliance with the installation technology and application of practical roofing materials are the main conditions for keeping your comfort.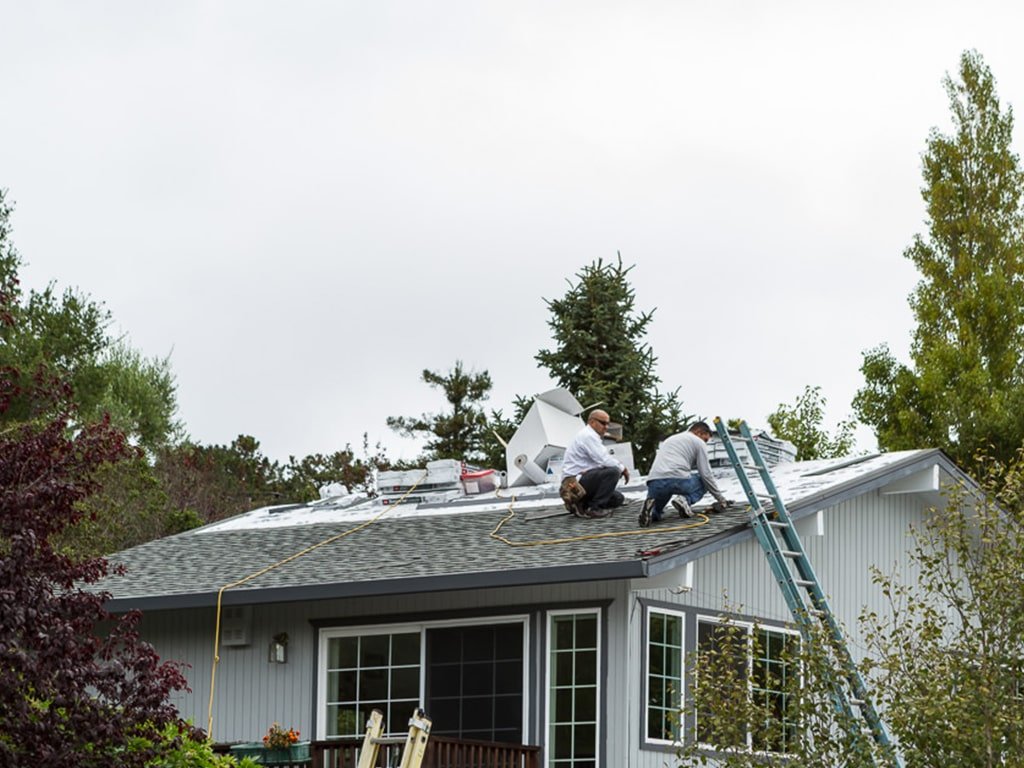 Do you need a new roof? Familiarizing yourself with the common roof types can help you make the best decision. Although there are more than ten roof types, we'll be discussing the most popular ones.
Single-pitched roof.


A single-pitched roof is also known as a pent roof or shed roof. This type of roof has one sloping surface and looks like an equilateral triangle.

This roof usually has a slope of more than 45°, providing effective drainage of snow and rainwater. Single-pitched roofs are popular in areas with heavy rainfall. They are easy to install and cheaper than other roof types.

Double-pitched roof.


A double-pitched roof has two sloping surfaces that are in opposite directions. It is the most widely used type of pitched roof. Homeowners usually use double-pitched roofs because they are visually appealing and economical.

The roof is also easy to install, and it provides adequate drainage for homes in heavy rainfall regions. Additionally, it can be installed in a very short time.

Hipped roof.


A hipped roof looks like a pyramid. It has two trapezoidal and triangular sides, with slopes on all four sides. Hipped roofs are excellent for draining water and snow. Furthermore, they are very stable and can withstand high wind.

However, this roof type can be costly to install and maintain. Therefore, we recommend you to consider the financial implication carefully before choosing a hipped roof.

Flat roof.


A flat roof is a roof that has no pitch. Although called a flat roof, it is laid to ensure adequate drainage. A flat roof is used in garages and other extensions, and it is easy to install.

However, a flat roof requires certain types of roofing materials to ensure it is waterproof. A flat roof is also more susceptible to leaks, so it is not recommended in high rainfall areas. If you are looking for flat roof installation services, get in touch with our highly experienced roofing contractors now.
The selection of materials is one of the decisions we make during a new roof installation process. This can be very challenging because there are lots of roof materials in the market. Furthermore, each type of material has its pros and cons. Below are the five most common types of roof materials among homeowners and businesses.
Asphalt shingle.


Asphalt shingle is the most popular roofing material among homeowners. This is because the shingles are functional and relatively inexpensive.

In addition, asphalt shingles are available in a variety of colors, they also work with many house styles. They are easy to install and can withstand a wide range of temperatures too. However, asphalt shingle will last less than other roofing materials.



Metal.


Metal roofs boast excellent performance. They are durable, easy to maintain, and environmentally friendly. Metal roofs offer high solar reflectance. They are compatible with many architectural styles such as cottage-style and contemporary.

However, metal roofs can be more expensive than the ones made from other materials. Installing a metal roof can be tricky, so it is vital to hire experienced roofing contractors for this job.



Natural slate.


Although expensive, a natural slate roof offers lots of benefits, including an appealing, natural appearance and high durability. Natural slate roofs are compatible with European, Colonial and French chateau styles. These roofs are easy to maintain and can last much longer than others.

Also, this material stands out because it is fire-resistant, sustainable and not susceptible to rot. However, it needs a great deal of expertise and experience to install. DIY roof installation isn't advisable when using natural slate as a roofing material.



Single ply.


Single-ply is great for new roof installation. Its raw materials include polymers and strong cardboard. Single-ply roofs are usually cheaper, more durable and lightweight.

However, these roofs are not as time-tested as those made of traditional materials. Single-ply suits many different house styles, it is an excellent option to consider if you plan to install solar panels on your roof.



Wood.


Wood shingles have been around for thousands of years, so they will stand the test of time. Wood also looks utmost attractively and creates a fashionable exterior for cottage-style homes and bungalows.

However, due to the extreme durability of the shingle, it features a corresponding price tag. In case the fire probability in the region is high, you should not choose this roofing material. Wood shingles also can rot or mold in wet climates.
The average cost to install a roof is around $8,000. The price may be higher or lower depending on the square footage of your home, the cost of the roof itself, the type and quality of roofing material, environmental conditions, and the quote for labor in your area. Expect to spend from $70 to $120 per square (100 square feet) on asphalt shingles, from $100 to $150 on natural slate, and more than $300 on single-ply.
Roof installation cost depends on:
Quality of materials
Size of home
Enviromental conditions
Cost of the roof itself
Cost of work in your area
The cost of a metal roof varies from $100 to $1500 per square. The range is that wide because there are many types of metal roofs. The cheapest is a steel roof with a price of around $200 per square. The price for stainless steel and tin roofs is $850 per square.
You can expect to pay from $150 to $600 per square for an aluminum roof and $600 to $1,000 for zinc roofing. The most expensive metal roof is a copper one, as the price for it ranges from $800 to $1500 per square. One of the most expensive materials is natural slate – the cost of a roof made of it varies from $500 to $1700 per square, depending on the color, thickness, and durability.
The average labor quote ranges from $150 to $300 per square. However, the quote may increase if there is extreme cold or heat in your area. That is because the roofers would have to buy additional protective equipment for the job.
If you want to have your old roof replaced, you should bear in mind that its damage can also affect the price of your installation. Rotten timbers under shingles make a new roof not only difficult, but also dangerous to install. Therefore, the roofers would need more time and equipment to replace a roof like that.
If you are looking for professional roofers in your area, contact FixerJoe.
Our company will help you find your perfect roof installer based on your budget and needs.
Contact us