On average 83% of people gets their best offer through FixerJoe
Feel yourself comfortable and confident at home!​
Average Range: $950-$3,500
Average
$1,550
Best offer
$150
High
$15,500
(200 sq.ft. kitchen remodel)

Remodeling your kitchen is the highlight of your year. You've waited for this project for so long and are thrilled to finally get started. You know that it's important to prepare well for your kitchen remodel. This will be a big project.
You don't want to compromise the safety, security, and outcome of your remodel investment. You want the entire process to be streamlined and done correctly. So, you decide to hire professional kitchen contractors. The kitchen renovation cost should equate with your expectations for results.
You searched the web for "bath and kitchen remodel contractors in my area." You jumped from one website to another until you landed here at Fixerjoe. The team here has something great for you. We are ready to offer our expertise. We can help bring your dream kitchen to life.
Fixerjoe is a team of professional kitchen remodel contractors. We specialize in home improvements. We install and repair all kinds of home appliances. We can help with everything from repairing your refrigerator to installing countertops and cabinetry. The average kitchen remodel cost is $12,500 to $34,000. Most people spend around $23,000. Our highly skilled team will make every cent of your investment for kitchen remodeling worth it.
Some small DIY remodeling projects can be an adventure. When you're completing a total remodel, hiring a pro is better. Save money and time when you hire a professional to do it right the first time. Fixerjoe gives you and amazing experience, from start to finish. We offer custom deals for a kitchen renovation, countertops, appliances, and cabinet services.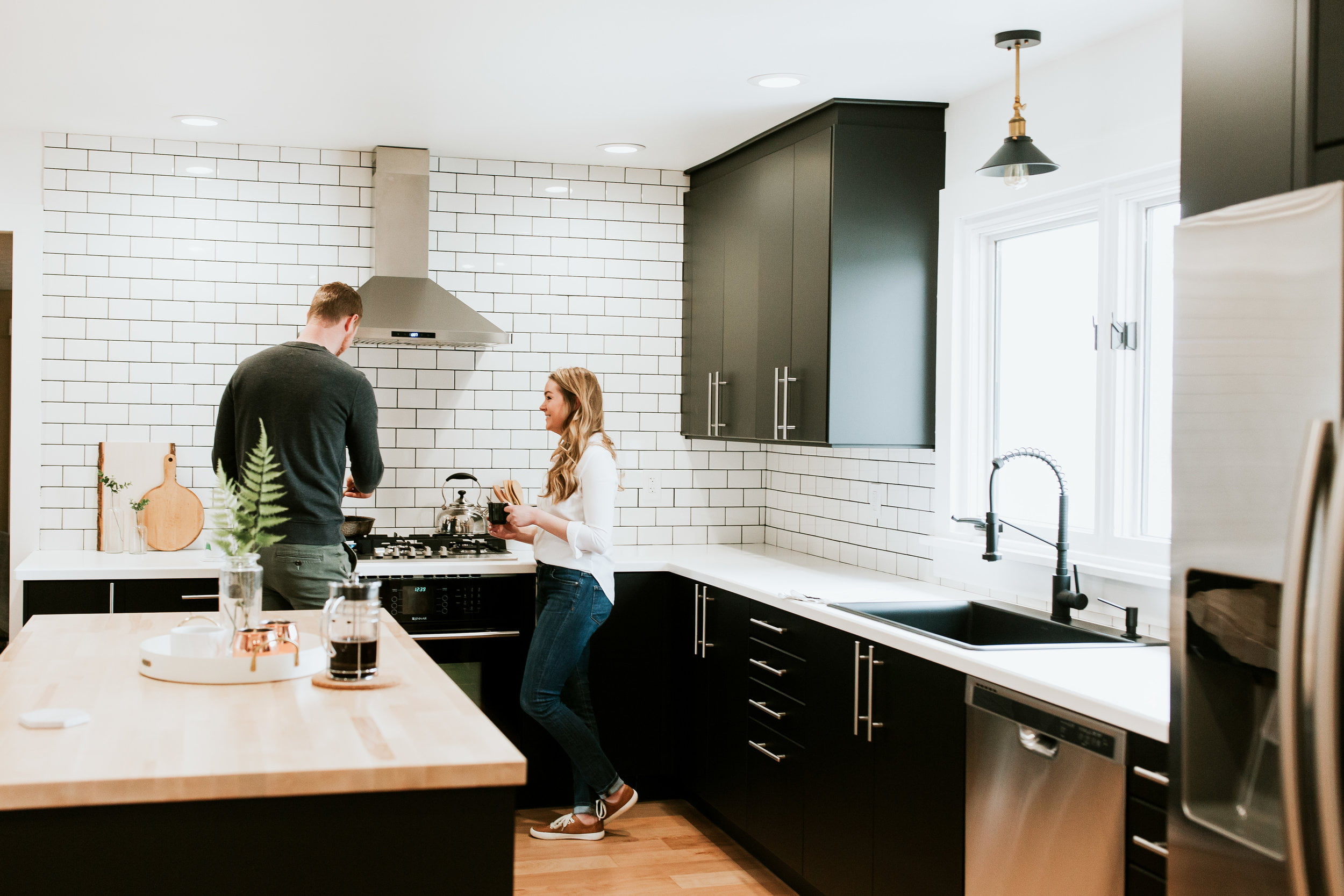 Do you need larger kitchen countertops to have a cup of tea with your family or friends? Or do you wish to repair and resurface your old and dreary countertops? Perhaps, you want to blend your countertop with the new theme of your remodeled kitchen.
Fixerjoe offers exceptional and affordable countertop installation and repair. We have a keen eye for art and precision. Every countertop is perfectly leveled. We don't miss any detail in installing or repairing worn-out or damaged countertops.
Our creative kitchen remodel contractors can turn any not-so-attractive bar into beautiful and elegant countertops. We offer the best deals for your budget and interior. Our kitchen contractors can also suggest which countertop material is best for your project.
You may not have to splurge on brand new countertops. Depending on the damage, we may be able to repair your existing countertops. We will make them like new again with our exceptional skills and equipment.
The average cost for countertop installation varies from $1,500 to $4,500. Homeowners usually spend $3,500 for installing a new countertop. While the kitchen remodel contractors for countertop repairs can charge you between $50 to $100 per hour.
Call us today to meet your kitchen contractors for countertop services. We'll give you that flawless and relaxing kitchen island you have always wanted.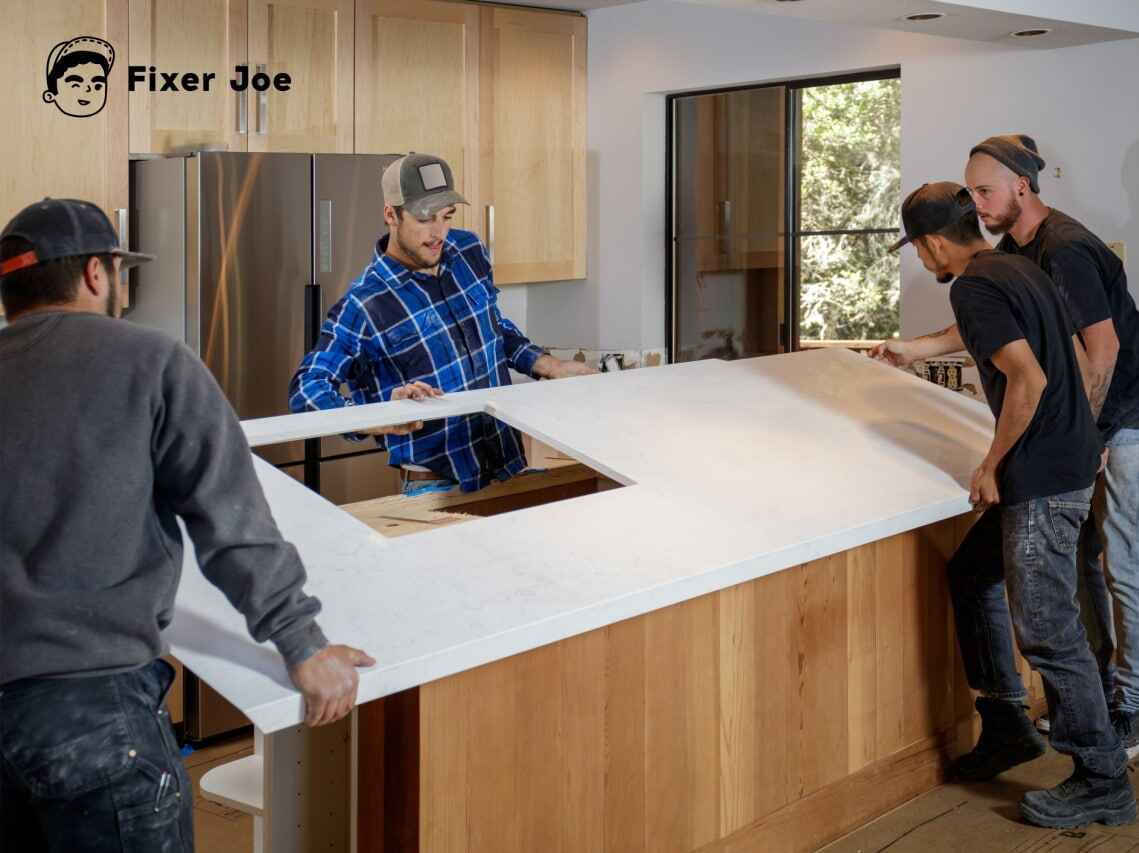 Nowadays, it's impossible to live in a house without a collection of kitchen appliances. Your coffee brews in 5 minutes while all the clothes are tumbling in the dryer. You need the help of appliances to make your life easier.
Sometimes, your water heater suddenly loses heat. Or maybe the coffee maker is brewing too slowly. When you can't DIY that issue in your washing machine, we can help. Fixerjoe is a reliable team of professional kitchen contractors. We are knowledgeable in installing and repairing home appliances to keep your life easier and comfortable.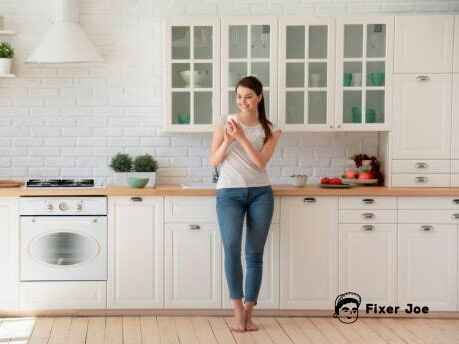 Our kitchen contractors will come to your home to help you install your appliances. Our team will make sure your new machines are functioning properly. Whether it's your new refrigerator, dishwasher, or stove, we will install them for you.
We are skilled at repairing any damaged appliance in your home. Appliance repair or kitchen remodel contractors typically charge you $193 or more for most appliance repair. While professional appliance installation costs around $117 to $270. Our team always strives to keep our prices fair and affordable.
Call us today to learn more about our appliance services.
Cabinets are an essential part of your kitchen. You need storage for everything from food, plates, utensils, and even appliances. And if you want a major kitchen renovation, you should also consider installing new cabinets. Cabinets tend to take a centerpiece role to the style of your kitchen décor.
If your cabinet doors have water damage or crooked hinges, they need to be repaired. However, cabinet repair and installation can be tricky tasks. Don't take on the difficult task on your own. Fixerjoe offers the most reliable cabinet services in the region. Let our kitchen remodel contractors handle the cabinet installation or repair for you.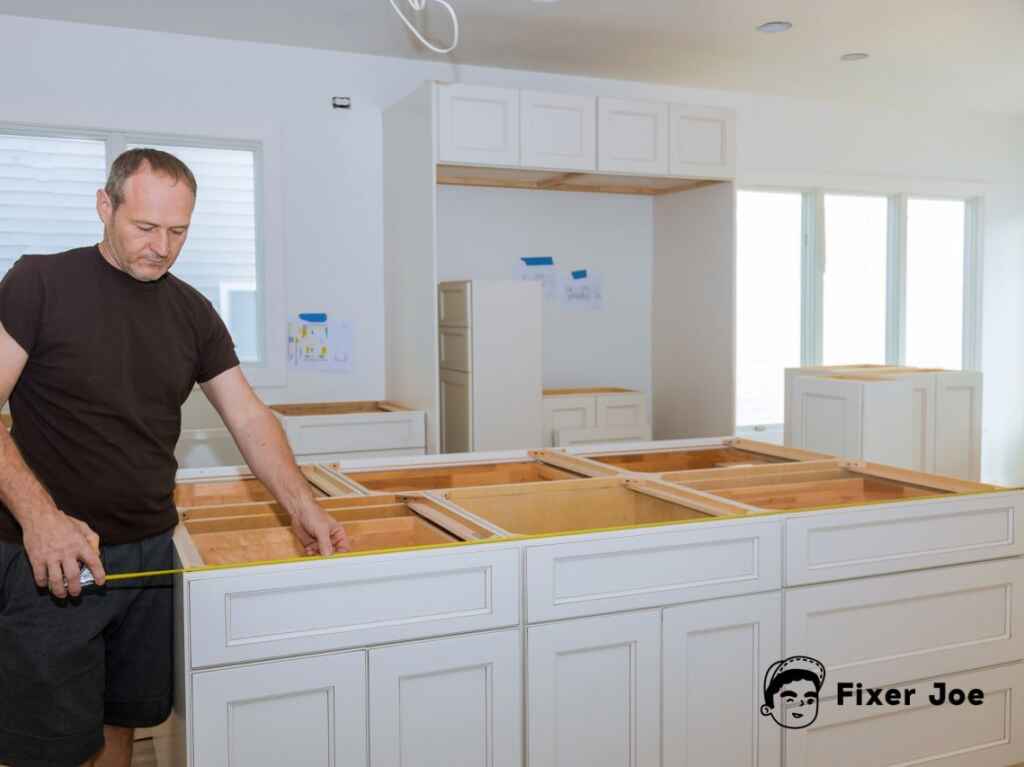 We efficiently install all types of cabinets for your kitchen. These include: base, wall, shaker cabinets, and much more. We also offer custom and semi-custom cabinets depending on your needs, lifestyle, and preferences. Our cabinet or kitchen contractors measure and fit cabinets precisely for your space and budget. The average overall cabinet installation cost can range from $3,000 to $8,000. Prices will vary depending on your custom specifications.
We can also repair cabinets with minor damages that simply need refinishing. Our customers usually spend between $130 to $460 for our high-end cabinet repair. Keep in mind that the actual kitchen renovation cost varies per situation.
Call us today for your kitchen remodel estimate. Our diligent and dedicated kitchen contractors at Fixerjoe are happy to serve you.
We ensure that our customers are 100% satisfied with the outcome of their kitchen remodel project. We will work to restore and enhance the beauty of your kitchen. A major kitchen remodel can also increase the value of your home. Our kitchen remodel contractors are ready to serve you today.
Call to speak to our kitchen contractors to begin your dream renovation project. Let us help make your new kitchen dreams a reality.
Check Out Latest Projects